Today we have launched Fleet Freedom version 4.2. This is a big update with plenty of new features and performance enhancements. Please read below for a full list of what is new in this update.
Performance
- Our Development team has dedicated a lot of time these last 2 months on performance. Report performance has been drastically improved. The front end of Fleet Freedom has also received extensive optimization on speed. You will notice Fleet Freedom feels a lot quicker and snappier in general. Fleet Freedom also takes less memory to run, keeping your computer running quickly during memory intensive tasks, like running large reports, mapping a lot of places and assets, etc.
User Interface & General Features
Finer control over who can view report results
Security fix: Users with restricted access to assets can only see reports results for the access with which they have access to
View and kill user sessions
Admin function to limit sessions and control abuse.
Editing a user's own preferences and contact information
Click on your name in Fleet Freedom and a pop up window will appear allowing you to modify your own preferences, even if you don't have admin access.
Editable status tag colours and icons
Select Admin/Styles. Customize how status stags appear for your company
Pop-up notifications: In application notification popups with sound
Online vs Offline notification preferences:

Ex, popup while online and email/SMS while offline
Save on SMS and Email bulk by not receiving these notifications while online.
Great tool for API integrators. Listen directly through the Websocket for notifications
Add a new device directly without needing to verify it. Great for bulk device activations and large deployments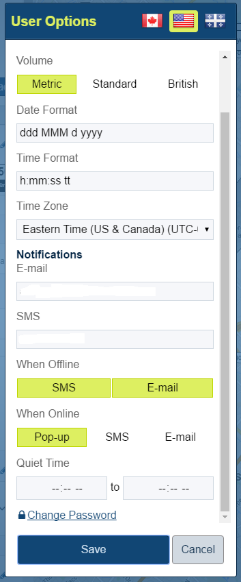 Under the hood
– Extensive updates and modification to the APIS have been added this month, along with some missing features.
Notifications are sent using local time, not UTC: Notifications now appear in your local time and are much easier to read
API - WebSocket keep-alive so you never miss an event
Behaviors have been modified to control asset permissions (Admin feature) Ex; A user with access to one Place and one Label can see an asset on the map, only when the asset is in the place they have access to. Think about giving your customers access to Fleet Freedom to see when trucks are in their area
New Hardware Features
–Development has added some additional features to enhance the Fleet Freedom GenX hardware platform. We now support Driver ID on GenX though a Key Fob, on top of the traditional Smartphone driver ID and Garmin Driver ID features already in V4. GenX hardware now also supports Garmin. GenX is a fantastic alternative to traditional GPS devices and is extremely flexible. The GenX 5p HSPA can be used as a traditional vehicle tracker with full installation, OBDII plug and play installation with Engine Diagnostics, JBUS/J1939 on board plug and play installation with full engine diagnostics, Driver ID through a Key FOB and Garmin. Lastly, GenX is also an excellent device for Reefer Temperature, using a weather proof box and GenX's bigger backup battery. Please contact your sales rep for more information on the GenX 5p.
Not using Fleet Freedom Version 4 yet?
- You are missing out on an all new Fleet Freedom with many enhancements and improvements. Migrate over and try V4 today. Simply click this link and enter your username/password combination to migrate your account. Check out our full set of manuals and how to guides here.
Let us know what you think! Your feedback is invaluable
- As always we appreciate your ongoing feedback of Fleet Freedom Version 4. Please continue to communicate with our Support and Sales teams to provide additional feedback on how we can better serve your geolocation needs. For any questions, comments or concerns, please email
support@fleetfreedom.com
or speak to one of our customer service reps at: 1 (866) 787-2548, ext 2. Our call center is open from 9AM-5PM EST, Monday to Friday. Thank you very much for your continued business and loyalty to Fleet Freedom. It is our honor to provide you with solutions that you rely on day to day to help manage your business. Sincerely, Andrew Singer